Santa Barbara, CA – December 19, 2017 – Carpe Data, the leading provider of next-generation data products for the insurance industry, announces today that former Iowa Insurance Commissioner, Nick Gerhart, CFA, will formally be joining the company's Board of Directors. With his extensive experience in strategy, new technologies and innovation in the insurance industry, Gerhart will play a key role in enhancing and accelerating Carpe Data's ongoing development of innovative, predictive data products, especially in the essential areas of data science and actuarial science.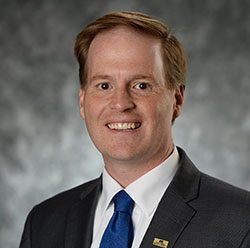 "What's really intriguing to me is being at the leading edge in a real growth space with an InsureTech company like Carpe Data that understands insurance and respects the role of regulators," Gerhart explained. "In looking ahead, I see next generation data playing a pivotal role in the evolution of our industry."
Carpe Data serves the insurance industry with fully automated data and predictive scoring products, with offerings that allow carriers to leverage valuable online data and enable them to gain greater insight into risks and significantly enhance many aspects of the insurance life cycle, from prospect identification, intake, validation, underwriting, claims, and renewal to book, market, and product assessment. The Carpe Data team boasts veteran status in technology and unique data, creating product offerings that reflect the company's core values of privacy, productivity, and innovation.
In less than a year, Carpe Data has achieved success after success, from raising $6.6 million in Series A funding from Aquiline Technology Growth to a swiftly expanding list of clients and partnerships—most recently bringing Allstate, the nation's top insurance carrier, on board as a client. Now seen as a leader in InsureTech, Carpe Data is focused on fine-tuning its existing products and forging new ones to better assist insurance companies increase productivity and profitability, while continuing to provide their customers with best-in-class service that meets the highest regulatory standards.
Gerhart's storied four-year term as the Insurance Commissioner for the Iowa Insurance Division, one of the largest domestic insurance states in the nation, promises to be a boon during this swift trajectory of growth and product development for Carpe Data. As the current Chief Administrative Officer of Farm Bureau Financial Services, Gerhart will share his expertise in creating strategic initiatives that enhance consumer experience and improving operational efficiencies. Gerhart has also been an advisor to numerous InsureTech startups, doing extensive research in order to mentor those he believes will one day transform and bring overall improvements to the insurance industry.
"Nick brings a tremendous amount of talent and expertise to Carpe Data through his career as a regulator, industry leader, and a key driver of InsureTech," said Max Drucker, CEO of Carpe Data. "His decision to join our Board of Directors further validates the value and transformative impact of next generation data and Carpe Data's place as the future of insurance. We are excited to have him on our team."