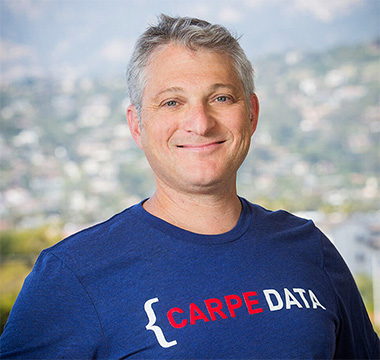 Max Drucker
CEO & President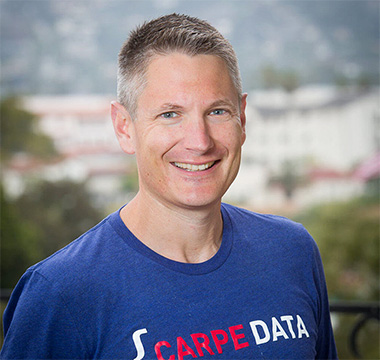 Geoff Andrews
Chief Operating Officer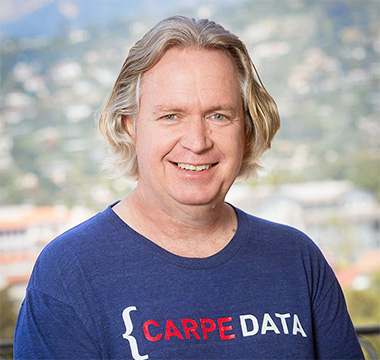 Mike Nichols
Chief Information Security Officer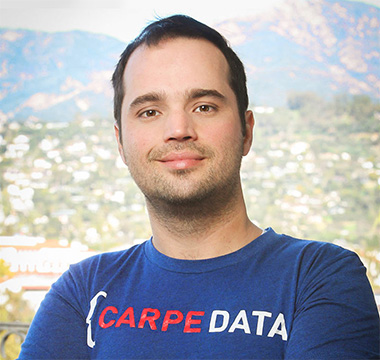 Victor Moreira
Chief Technical Officer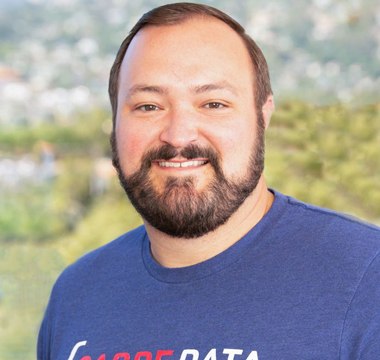 Andrew Arrastia
Chief Financial Officer
William Magowan
Chief Revenue Officer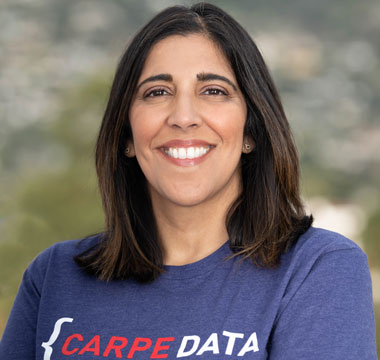 Anita Tulsiani
Chief Marketing Officer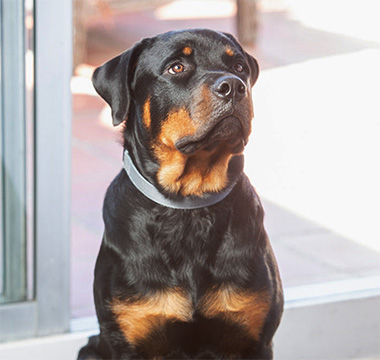 Bojack H. Drucker
Chief Adorable Officer
Max Drucker
For two decades Carpe Data CEO Max Drucker has led innovation for the insurance industry as a data visionary, always at the forefront of technological change. Before Carpe Data's launch in 2016, Max excelled as both executive and entrepreneur—in 1998 he served as CIO and co-founder of eCoverage, the nation's first online auto insurance company. Looking again toward the future Max founded Steel Card, one of the world's first InsureTech companies, which was acquired by ChoicePoint in 2006 and is now owned by LexisNexis, earning him recognition by Insurance & Technology Magazine as one of the Top 10 Innovators of the Decade.
Geoff Andrews
As Co-founder and Chief Operating Officer of Carpe Data, Geoff Andrews is responsible for the overall operation of the company as well as the oversight and execution of strategic initiatives. Prior to his current tenure, Geoff served as a director and original member of Steel Card, playing a key role in the company's development and successful acquisition by ChoicePoint. As the VP of Operations for the Personal Lines Software Division of Insurity, Geoff was integral in making Steel Card the first ChoicePoint acquisition— and exceeded expected revenue targets for the first three quarters as a result.
Mike Nichols
Mike Nichols is Chief Information Security Officer. With more than 30 years of experience in the computer industry, Mike has had a hand in everything from developing critical applications for Boeing Computer Services to performing multiple roles across diverse technologies for growing Internet start-up companies.
Victor Moreira
Victor Moreira is Chief Technology Officer. A seasoned leader in the technology industry with a focus on growing data-centric startups, Victor was part of the NozaSearch team, a local startup that created the world's biggest database of philanthropic data. On the heels of Nozesearch's acquisition by Blackbaud CRM in 2010, Victor co-founded HG Data and as the CTO led the technology development and product creation.
Andrew Arrastia
As Chief Financial Officer of Carpe Data, Andrew Arrastia is responsible for all finance functions of the company as well as financial strategic initiatives. Prior to Carpe Data, Andrew has over 13 years experience in both public accounting as a CPA and private sector SaaS leadership. Andrew has a proven track record of guiding companies through rapid growth, including multiple M&A transactions and international expansion. In his role, Andrew is focused on transforming his team into a best-in-class finance function while building cross-functional partnerships that optimize the company's ability to scale.
William Magowan
As Chief Revenue Officer (CRO), William Magowan is responsible for driving all revenue-generating departments at Carpe Data. Leveraging more than 20 years of InsurTech experience, Magowan has a proven track record of building compelling go-to-market strategies and fostering collaborations to drive product innovation, customer satisfaction, and profitable growth. Prior to his current role, Magowan was instrumental in the growth and subsequent IPO of Duck Creek Technologies. He has also held sales leadership positions at Insurity, ChoicePoint, and LexisNexis.
Anita Tulsiani

Anita Tulsiani
Chief Marketing Officer
Anita Tulsiani serves as Carpe Data's first appointed Chief Marketing Officer. Anita is responsible for strengthening Carpe Data's brand, value proposition, and increasing demand for Carpe Data's Solutions. Anita is a 12-year veteran of the insurance industry and gained a deep knowledge of the industry after working for CoreLogic, a property data and analytics company. Prior to CoreLogic, Anita spent 15 years in high-tech marketing for both Dell and AMD.
Bojack H. Drucker
To most, Bojack needs no introduction— take one step into the office and he'll greet you with 125 pounds of Grade-A puppy love. Previous roles include Barketing Specialist and Manager of Pawperations at the Drucker family household, and he's recently taken an interest in overseeing security detail for his favorite humans at The Bark Bus.