Carpe Data is full of incredible talent, each with their own stories about what makes our company and our work special. Whether it's the cutting-edge research and fast-paced development strategies, the opportunity to work with the latest data science technologies, or the incredible people that bring it all together, we're asking our team members and colleagues to share why Carpe Data is special to them.
Today we're featuring the first employee hired in our newest office in Lisbon, Portugal. Camille Dufau may be originally from France, yet she embraces both life and work for Carpe Data in beautiful Lisbon as a Software Engineer. Camille brings a wealth of talents to her work as well as a healthy dose of French joie de vivre. Although her days of competing in pentathlons are over, Camille juggles several projects daily with ease.
What is your current role and what are you responsible for?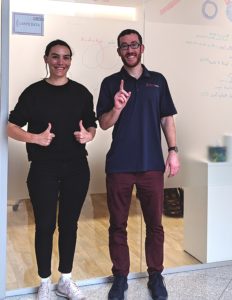 I am a data engineer at Carpe Data. We are what I like to call "Data Plumbers" because we build the pipes in which the data will flow and be enriched until it is refined enough for our more "business-oriented" colleagues to work their magic on it.
Have you held any other roles at Carpe Data?
So far, it has been my only role. I might be on the verge of being the official "video tutorials" creator, but that's a story for another day.
What keeps you coming back to work at Carpe Data?
The people, first and foremost, because of their overall state of mind and great personalities; and second, for their level of professionalism and intelligence. I do enjoy my work thoroughly, free from stress and with frequent acknowledgement from my colleagues and bosses. How could I ask for more?
Can you tell us about a career highlight at Carpe Data?
Lately, I have been working on my own little field dealing with the way we process opening hours from business data. It comes in all shapes and sizes and needs to be normalized. I am not a "natural-born coder" as some of my colleagues are, and I only recently started being really technical. I'm proud to be able to manage this project myself and explain what I've accomplished to my team.
What makes you proud to be a Carpe Data team member?
What I brag about most to those around me, especially to my French friends, is the way our management treats Carpe Data employees and the level of recognition we receive. It's not a commonly practiced type of management style in my home country.
What did you do before joining Carpe Data?
I worked as a consultant in finance and IT for BDO for four years before spending three years as a (really) junior data engineer at a French startup, SquidSolutions. Then I tried another year and a half of consulting after moving to Lisbon until I remembered why I quit consulting in the first place! When I met the amazing Matt McLaughlin in 2019 as he was building the Carpe Team in Lisbon, I knew it was the right fit. Et voila! 
What are you looking forward to accomplishing at Carpe Data?
I'm excited to continue learning about the commercial pipeline as a whole. It has several contributors and many different steps throughout the project. It would be amazing if we, the "pioneers" of the Lisbon office, understood all aspects of the pipeline in order to communicate it to all the new team members.
What advice would you give to yourself if you could go back to your first few months at Carpe Data?
Don't feel bad if you feel lost at the beginning, as it's easy to be overwhelmed by the technical aspects and all the different subjects, tools, who-does-what, etc. I've been here one year and I'm still learning a lot every day.
_____
Interested in joining the Carpe Data Team? Check out our numerous openings here— we're always looking for top-tier talent!