Carpe Data is full of incredible talent, each with their own stories about what makes our company and our work special. Whether it's the cutting-edge research and fast-paced development strategies, the opportunity to work with the latest data science technologies, or the incredible people that bring it all together, we're asking our team members and colleagues to share why Carpe Data is special to them.
We're kicking off this series with Carpe Data's most-tenured product delivery expert, Kait Joven. Kait has been with the team since before we were called Carpe Data, and her experience analyzing online content for insurance outcomes has been instrumental to the team of 30 engineers that Kait oversees to ensure the quality of our product deliverables. 
_____
Kait Joven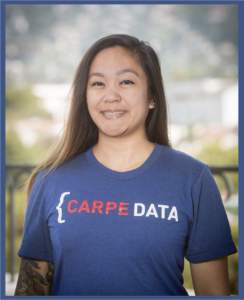 What is your current role and what are you responsible for?
I'm the Manager of Product Delivery. I make sure that deliverables go out to our Claims Monitoring customers on time and work with Customer Success to ensure that we pass back high quality alerts. 
Have you held any other roles at Carpe Data?
Previously I was the Product Delivery Team Lead, where I managed a slightly smaller team of engineers with the same goal. It's been great to grow into my people management skills over the years.
What keeps you coming back to work at Carpe Data?
Even though I work remotely (and appreciate my ability to do so!) it's definitely the people. I frequently visit the office for work and company events and look forward to face-to-face time with the team whenever I can get it.
Can you tell us about a career highlight at Carpe Data?
We recently opened our first international office in Lisbon, Portugal and I was privileged to help form the new team based there. It was the first time I participated in interviews and handled training primarily on my own. While it was a challenge, it was also an incredible learning experience.
What makes you proud to be a Carpe Data team member?
Seeing where we came from and where we're continuing to grow. Appreciating the investment that I know the company has put in me as a person and seeing it in my co-workers too.
What did you do before joining Carpe Data?
I graduated from University of California, Santa Barbara in 2012 with a double major in English and Language, Culture, and Society. I then started working at Social Intelligence in January 2013 (a precursor to what would eventually become Carpe Data) as a Social Media Analyst and became a Team Lead before transitioning our department to Carpe Data in April 2017. 
What are you looking forward to accomplishing at Carpe Data?
Having a positive impact on the people that I work with– not just on a day to day basis, but whenever I interact with them. As much as the people are the reason I enjoy my work, I want to be part of the reason that they enjoy coming to work too! 
What advice would you give to yourself if you could go back to your first few months at Carpe Data?
The best advice I could give my past self or any new members to the team would be to voice your opinions and goals– they are truly valued around here, and the best way to make progress on your goals is to include your leadership in the conversation. They'll listen, I promise! 
_____