Bringing Online Data
Into Focus
We complete the picture
Superior insurance outcomes— powered by superior intelligence
Carpe Data enables insurers to automate and optimize claims and business underwriting workflows with the perfect fusion of artificial intelligence and advanced data science techniques, paired with decades of industry expertise.
Remarkable Efficiency Gains
Squeaky-Clean Data
AI Built Without Bias
Unlock 10x Insurance Claims and Underwriting Efficiency with Advanced Automation
In order to get the complete picture of a person or business, claims operations and underwriting teams spend thousands of hours sifting through mountains of data across millions of websites to make decisions informed by the best data available. Carpe Data eliminates this intensive and manual process with AI that flags and refines relevant online content and delivers it straight to your team.
Harness the potential of automation to transform your operations and join the world's largest insurers who not only enjoy an average 10x ROI with Carpe Data, but revolutionize their claims and underwriting accuracy as well.
Trustworthy Data Drives Better Insurance Decisions
The only thing worse than no data is bad data. That's why Carpe Data dedicates more resources than any other data provider in the industry, backed by rigorous data cleanliness practices including frequent data source audits, to ensure that insights are fresh, relevant, and accurate.
We make it our business to distill a mountain of information into consumable data points. Then we spend hours refining and analyzing it with insurance intent in mind. This means our data solves real insurance problems and adapts to your unique appetite and needs.
Scalable, Integrated, and Ethical Artificial Intelligence for Sophisticated Insurers
Carpe Data leverages the capabilities of large language models and cutting-edge AI technology to revolutionize insurance claims processing and small business underwriting. Built by diverse data science and engineering teams with a rigorous approach to eliminating bias in modeling, our superior intelligence empowers your teams to make more informed claims and underwriting decisions with insights embedded directly in their workflows.
Discover the true potential of intelligent automation as we sift through mountains of unrefined online data to glean previously untapped data across any (or every) open claim or policy in your system.
Recent Insights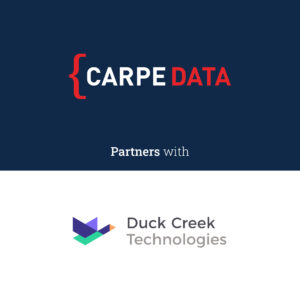 The partnership will provide Duck Creek's customers with access to Carpe Data's extensive range of actionable insights, helping insurers to reduce instances of fraud, automate and expedite decision-making processes, improve pricing strategies and make more informed underwriting and claims decisions.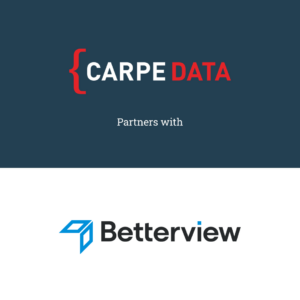 Access to accurate location-based occupancy data will support Betterview in making faster, smarter policy decisions. SAN FRANCISCO, March 07, 2023...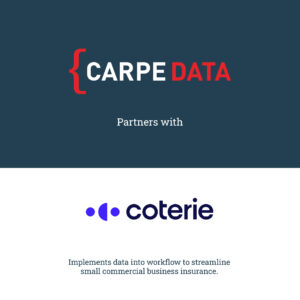 Carpe Data implementation will help identify critical risk in underwriting for small commercial businesses Santa Barbara, CA, December 15,...