Santa Barbara weekly newspaper, The Independent, is the place for locals and tourists alike to find out what's happening around town. Occasionally, they pick a notable Santa Barbara resident for what they call "The S.B. Questionnaire", which consists of a short interview followed by the Proust Questionnaire, made famous by French author Marcel Proust and designed to reveal the subject's true nature.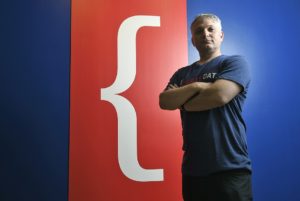 Roger Durling, the interviewer, is one of Santa Barbara's notable residents as well, as he is the Executive Director of the world-renowned Santa Barbara International Film Festival. In fact, the festival is where Roger and Max had their first, and not fully friendly, interaction.
"I have been told that I don't always make good first impressions," confessed Max in the article. While that may be true, he is an excellent CEO and a visionary leader for Carpe Data.
If you'd like to know where Max worked right after graduating from college (hint: it's a type of fruit), who he most admires (big clue: he drives a Tesla), how long his attention span is (his toddler may have the edge over him on this one), and much more, read the full article online here.